A Confederacy of Leeches
    This vision of earthly beauty is "Kim Dotcom":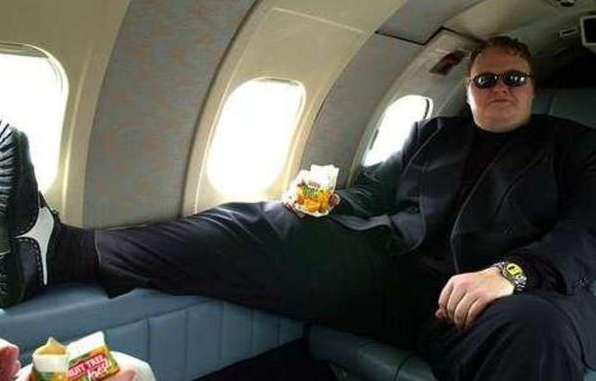 There are hundreds of Kim Dotcoms in the world, all doing the same thing:  getting incredibly rich by depriving tens of thousands of artists, and hundreds of thousands more who work (or worked) in the film and music businesses of their livelihoods by running a "file-sharing" website.  And then rubbing it in those artists' faces by splattering the web with pictures of how "successful" they are.
Here's one of Kim's houses: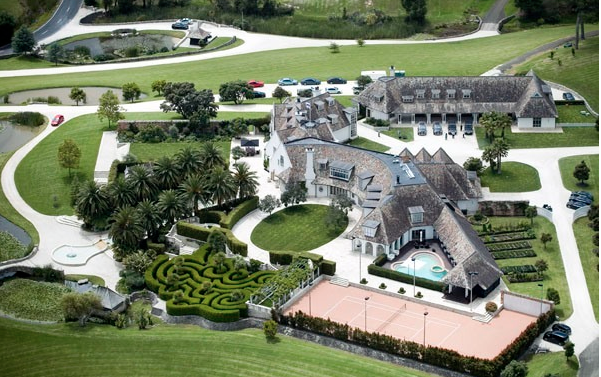 And here's his yacht: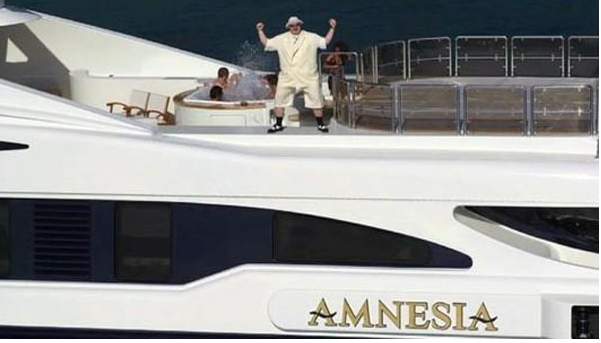 And here's Kim enjoying a nice, hot bath: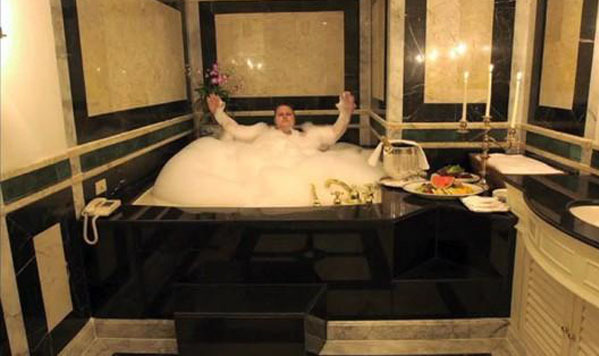 You see that solid gold hot-water spigot handle there in that picture?  THAT'S MINE.  And I want it back. See that candelabra on the right?  IS THAT YOURS?  Do you want it back?  "Kim Dotcom" has cost the music and film industry somewhere in the neighborhood of $500 million.  There are efforts underway to extradite him from New Zealand to the United States to face charges of copyright infringement, but after "megaupload.com", the file-sharing website that has made him a millionaire hundreds of times over, was shut down, he simply opened a new, encrypted one, entitled "Mega", and carried on "sharing" the sweat of the creative efforts of thousands of artists and taking their money for himself.  What a putz.
A couple years back, a friend told me a story about a thread he read on a website catering to fans of electric jazz music.  Souvik Dutta, the founder of the excellent fusion record label "Abstract Logix", had gotten on and was talking to people about considering what they're doing when they download music by the musicians they admire from sites like "Megaupload.com". Mr. Dutta was respectful in his tone, trying to actually generate a positive result, rather than just vent on the topic.  And according to my friend, he was absolutely castigated, pelted with epithets by these "fans" for daring to suggest that they weren't just entitled to any artist's output for nothing.  Even as many of them idolize the very musicians they're ripping off, diminishing these artist's output by their pilferage in the process.  And this syndrome isn't just affecting musicians; there are plenty of books and films available for the asking as pirated downloads as well.
It's a brave new world.  And it's getting old fast.
I remember having a conversation with Pat Metheny 15 years ago in which Pat said "It's gonna come down to where all we've got is live gigs and T-shirts"
But, subversive S.O.B. that I am, I wonder if there's not a better way.  I used to get a laugh out of the stories of "spoofing" on Napster.com;  record labels and artists would share files with the names of their tracks via Napster, but instead of that Green Day track, the actual music in the file would be Pat Boone singing  "Love Letters In The Sand".  The idea was to make it such a pain in the ass to finally get a working one that people would give up and buy the track.  It was a rather quaint way to try to put out a house on fire with a couple squirt guns.  But take a look at what's possible:
http://en.wikipedia.org/wiki/Adrian_Lamo
This guy seems like he may have a few screws loose, but I was struck by his "resume", and particularly by this little bit:  "Lamo was removed from a segment of NBC Nightly News when, after being asked to demonstrate his skills for the camera, he gained access to NBC's internal network."  There are thousands of similar stories about rather remarkable hacking jobs.  Mr. Lamo alone hacked into the New York Times, Yahoo!, and Microsoft.  So here's my question:
How many hackers can you hire with $500 million?
And why do we who should be making some sort of living selling our creative property just sit pitifully wailing and flagellating ourselves with our ASCAP statements?  Why aren't we fighting fire with fire?  Of the great many brilliant minds at Apple, whose online music store must lose many billions of dollars a year to file-sharing, why isn't there an underground bunker filled with hackers devoted to replacing ALL the files on these file-sharing services with Pat Boone tracks?  Why do we just flop around like fish dying on the dock, biding time until Kim Dotcom comes along in his $4500 Gucci fishing boots and bashes us in the head with a beer bottle?  Are we concerned that hacking is IMMORAL, or UNETHICAL?  Don't make me laugh  !  As I understand it, a great number of people who are into hacking do it largely because it's a challenge, not because they're crooks.  It's the thrill of the hunt.  What if the entertainment industry were to offer something like a bounty for the hunt;  take down a file-sharing site and you make a couple thousand bucks for every week it's not working?
Mike Brecker once told me a story about a meeting he and two other musicians had with a lawyer about finding a way to deal with a jerk in Cologne, Germany, who was running a nice little business manufacturing and selling CDs of concerts he'd recorded off his TV.  Music to which he had no right whatsoever.  He'd put out at least a few CDs featuring Mike or the Brecker Brothers, and as we traveled the world, we'd always see these pirated CDs in the bins in the CD store, competing with the legitimate discs that paid those who had produced the music.  To make matters worse, the guy would show up in the audience at our gigs, sitting there with a little Cheshire-cat grin on enjoying the music he was planning to bootleg. The lawyer basically told them that it was next to impossible to successfully prosecute a case like that across the ocean, to which Mike told me one of the other musicians responded that a way should be found to kneecap the guy.  In the brave new world, we don't kneecap Kim Dotcom by sending in Paulie Walnuts with a baseball bat.  We send in a pimply teenager named Norbert with a cable modem.
Every time I turn on the hot water in my house with my humble Home Depot hot water handle I curse Kim Dotcom.  I want what I have earned.  Who's with me?
IF
 you are digging this blog, join the mailing list and share it on your favorite social media and you might be entered to win a handsome 
George Whitty Genuine Faux Bronze Lawn Gnome
, valued at $6,499! You don't want to be the only one on your block without one!