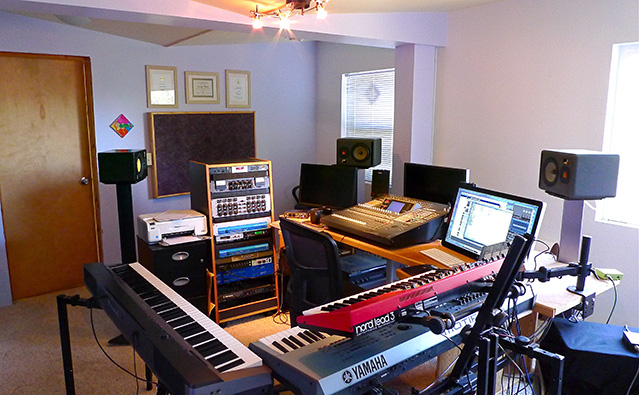 Housed a mile high in the mountains outside Los Angeles in a custom-built room designed from the ground up for accurate acoustical response, this studio has been my home for the last 4 of my 20 years spent pursuing the ideal sound from all manner of recorded media.  My philosophy has been shaped by extensive experience on both sides of the glass as a keyboardist for artists such as Herbie Hancock, Carlos Santana & Dave Matthews, Celine Dion, David Sanborn, the Brecker Brothers and Chaka Khan, as a producer of dozens of CDs, including 3 Grammy-winners (among them Randy Brecker's "34th and Lex" and "Hangin' In The City", which I also mixed in my studio), and as a mix and mastering engineer on more than 1,000 tracks. Feel free to get in touch with any questions or to ask for references;  any one of my clients will testify to my drive and ability to achieve exactly the right sound for their project.
MIXING:
My focus as a mix engineer is on a full, clear, deep image with a lot of punch and a lead vocal or instrument that's larger than life. These days I do about a 50/50 ratio of mixes that begin as raw tracks and mixes on which my mission is to take the client's mix-in-progress higher. I'm equally comfortable mixing in Logic and Pro Tools, and everything I do features Manley's tube Massive Passive as the buss EQ and Vari-Mu tube compressor as the buss compression, bringing tube warmth and clarity to the mixes. I mix everything from tracks recorded in world-class studios by world-class engineers to tracks recorded (occasionally into the wrong side of the mic) in home studios; after all these years I am quite confident in my ability to make the client happy, whatever their budget and time constraints.
Having mixed hundreds of tracks at various clients' studios, starting right where they left off, I've evolved a prioritized process to wring the maximum potential out of the minimum time and budget. In other situations, I am often called to do more than just "mix" the track; a number of clients send me Logic Projects or Pro Tools files with RTAS instruments as the source, with an understanding that I'll use my 20 years of experience in programming and sound design (for about 70 examples of my work in this field, click here) to edit their sources (editing the envelope and resonance on the synth bass, for example, is often a better answer than trying to get the same thing with compression & EQ), or replace them as needed with my extensive library of Very Nice Sounds. The result is an improvement far beyond what an ordinary mix engineer can do. I mix in a room custom-designed and built literally from the dirt up for a flat response that translates beautifully to the outside world; it's very rare for a mastering engineer such as Greg Calbi, who's mastered a dozen CDs I've mixed, to do more than .8 db worth of EQ at any point on my mixes.
MASTERING:
"I was invited to a soul-pop jazz club tonight which has a capacity of around 1000 people, and went to the DJ cabin. I gave him the last mastered CD and asked him to play the track Stand. I just wanted to make a comparison with the tunes playing there. Our sound was absolutely amazing!!! The bass and kick is mind blowing!!! The vocal is very clear and lucid.. The drums, keyboard, brass and guitar balance/sound is really PERFECT! People were dancing at the amazing sound. The level is a bit higher and huge compared to the other CDs playing and I just LOVE IT:-)"  – Okan Ersan, on his disc "A Reborn Journey", mixed by Dave Weckl, mastered by G Whitty
Mastering is a uniquely satisfying process for me, whether the project really just needs a little polish or calls for heroic measures. I can sit there A/B-ing literally all day, and get a sort of high out of hearing the mix reach its potential bit by bit. Like many other aspects of my musical life, I find that being "boxed in" by having in most cases only a 2-track mix to work with somehow activates every lobe of my brain.  Increasingly I'm getting mixes from people in which I suggest that they might send a 2-mix, but without the bass and vocal, for example, and I'll get a sound on those and then mix them into the track and master the result.  The acquisition several years ago of a very high-end analog chain has greatly facilitated my ability to take your in-the-box mix out of the box and give it a large, warm, professionally-mixed sound. These days, with the extreme levels found on radio-targeted CDs, and in the interest of your tracks sounding full and strong compared to others with the iPod in "shuffle" mode, the level of your CD is an important consideration. Years of experience, testing, and refining have led to my approach to getting your disc nice and hot with an absolute minimum of compromises to the sound.
THE GEAR:
Analog EQ: Manley Massive Passive Tube EQ. 4 stereo bands of Pultec-style passive EQ with a uniquely huge, warm sound
Analog Compression: Manley Vari-Mu Tube Compressor. That rare device that generally improves a track even when the meters aren't moving
A/D:  Lucid 96/24 with the "Jim Williams Mod" (ultra-fast op-amp)
D/A:  16 channels of Mytek conversion;  all monitors (I am set up for 5.1 mixing/mastering) and audio processing is converted by these
Mac 8-core running Logic, Pro-Tools, and a large selection of plug-ins
Yamaha 02r II for routing and monitor levels
KRK 6000 monitors with KRK subwoofer;  my trusty monitors for more than 10 years now.
UAD processing:  4 chips running modeled Neve, Fairchild, Pultec, Empirical Labs, Manley, and various other plug-ins
Waves Platinum plug-in package
Very wide array of virtual instruments from Native Instruments, Arturia, East-West, Synthogy, Spectrasonics, Logic…
Keyboards:  Yamaha Motif XS7, SY99, Nord Lead 3, Oberheim Matrix 1000, Roland JV-2080, various other modules
 CLIENTS:
Randy Brecker: "34th & Lex", – Producer, arranger, keyboards, recording & mix engineer. Grammy award-winner
Michael Bolton: "Til the End of Forever" – Mix engineer
Mike Stern with the Danish Radio Big Band – Mix engineer, Mastering engineer
Herbie Hancock:  "The Imagine Project" – Keyboards, Orchestration, Sound Design
Robben Ford with the Danish Radio Big Band – Mix engineer, Mastering engineer
Michael Brecker: "Time is of the Essence"– Producer, Arranger. Grammy Award-winner
Jeff "Tain" Watts with the Danish Radio Big Band – Mix engineer, Mastering engineer
Randy Brecker: "Hangin' In The City" – Producer, arranger, keyboards, recording & mix engineer. Grammy award-winner
Celine Dion: "Falling Into You" and "These are Special Times" – Keyboards, Arranger
Herbie Hancock, Michael Brecker, Roy Hargrove: "Directions In Music"– Editing
Chris Minh Doky: "Scenes from a Dream", "The Nomad Diaries" and "A Jazz Life"– Mix Engineer, Mastering Engineer
Tom Kennedy: "For the Record" and "Just Play" – Mastering Engineer