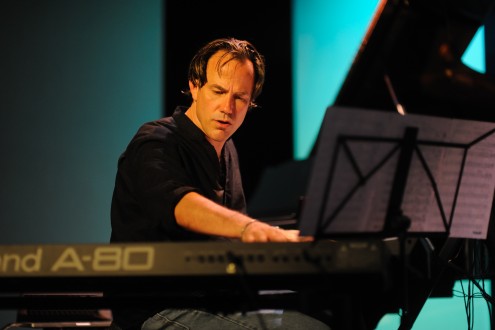 Grammy-award winning keyboardist George Whitty has spent 20 years playing on the road with the Brecker Brothers, Herbie Hancock, David Sanborn, Richard Bona, Chaka Khan, Sadao Watanabe, and a dozen others, and his resume as a session musician includes some of the best-selling records of all time: Santana's "Supernatural" (with Dave Matthews), Celine Dion's "Falling Into You" and "These are Special Times", and more than 100 other CDs. As a producer/keyboardist, his Grammy-winning streak began with Chaka Khan's "The Woman I Am" in 1992 and extends through 3 award-winning releases with the Brecker Brothers, most recently Randy Brecker's "34th and Lex", 2004's Grammy-winner for Contemporary Jazz Record of the Year. In April 2010, he completed work on several tracks for Herbie Hancock's CD "The Imagine Project", programming Herbie's live rig for the tour as well.  As a composer, he's written for hundreds of episodes of television and several award-winning films, composing for a dozen shows from "The Road to Stardom with Missy Elliot" to "As the World Turns", for whose music he was nominated for a 2006 Emmy award. He won a 2014 Emmy award for scoring the long-running series "All My Children".  George recently finished the score to the feature film, "The Getdown", which is in the rotation on Showtime, and has recently been working with Herbie Hancock, both live in Herbie's band at the Hollywood Bowl and as an arranger/keyboardist, recently completing several orchestral arrangements for a duo CD for Herbie and classical pianist Lang Lang.  He is currently also working on a number of CD projects, mixing and mastering a steady stream of CDs, conducting clinics and master classes and teaching private lessons around the world, and enjoying life in the mountains outside Los Angeles with his 2 boys.
"The set kicked off with 2003's "Comin' Home Baby," a spacey, atmospheric groove that provided a background to showcase Sanborn's wildly talented keyboardist and organist, George Whitty."  – The Buffalo (NY) News, 05.21.07
---
 
CURRENT PROJECTS as of 08.2012:
Randy Brecker: Currently playing with Randy Brecker and the Brecker Bros. Reunion Band, featuring Will Lee, Dave Weckl, Mike Stern, Oli Rockberger and Ada Rovatti.  The band played a nearly sold-out week at the Blue Note New York, and filmed a live DVD there on Saturday night of the week, which I mixed as well.  Also producing, arranging, mixing and playing on Randy's forthcoming CD, featuring David Sanborn.
Herbie Hancock and Wayne Shorter:Arrranged several pieces by Herbie and Wayne for full orchestra. The first of these, "Sonrisa", premiered with the Calgary Philharmonic featuring Herbie Hancock, and continued on to the Oregon Symphonny and the Seattle Symphony. Also programming keyboards, loops and backing tracks for Herbie's solo concert series.
Drew Zingg:  Wrote and arranged several pieces for the debut CD by long-time Steely Dan/Boz Scaggs guitarist Drew Zingg, and played all keyboards on the sessions, featuring Michael McDonald, Boz Scaggs, Vinnie Colaiuta, Will Lee, and several other guest artists.
Numerous CD Projects:  Chris Buck: 3 Crows – played keyboards and mixed this great disc featuring Virgil Donati, Chris Taylor, Marco Minneman, Brett Garsed. Jeff Richman – played keyboards, programmed percussion, did some arranging on this disc produced by Jimmy Haslip, got to hear Steve Gadd replace my drums! Tom Kennedy – Mastered Tom's excellent straight-ahead CD "Just Play". Buddy Williams – mixing for Buddy's first CD, featuring a lot of old-school soul and killer writing, with a groove the way only Buddy can do it. Gary Haase – arranging, playing keys, programming percussion and mixing for a CD of jazz interpretations of classical themes for my long-time partner-in-crime and one of my favorite musicians.
Live Performances/Tours:  Live performances in the past year include road work with Randy Brecker, Herbie Hancock & Carlos Santana, David Sanborn, Chris Minh Doky and the Nomads, and my own trio "3", featuring Ric Fierabracci and Tom Brechtlein.
---
SELECTED RECENT CREDITS AND EXPERIENCE:
CD PROJECTS:
Drew Zingg: Drew Zingg – keyboards, arranger, composer (5 songs).
The Imagine Project:  Herbie Hancock – keyboards, synthesizer orchestration.
Supernatural:  Carlos Santana and Dave Matthews – keyboards.
34th and Lex:  Randy Brecker – Producer, Keyboards/programming, Mix Engineer.  2004 Grammy for Best Contemporary Jazz Album
Falling Into You:  Celine Dion – Keyboards, programming, arrangements
Tales from the Hudson:  Michael Brecker – Producer.  1996 Grammy for Best Instrumental Jazz Album
These Are Special Times:  Celine Dion – Keyboards, Arranger
The Woman I Am:  Chaka Khan – Producer, Keyboards, Programming, Arranger.  Grammy for Best R & B Vocal Performance
Time Is Of The Essence:  Michael Brecker – Producer.  Nominated for 2001 Grammy for Best Instrumental Jazz Album
Till The End Of Forever:  Michael Bolton – Keyboards, Mix Engineer
Out of the Loop:  The Brecker Brothers – Producer, keyboards, arranger.  1995 Grammy for Best Contemporary Jazz Album
TOURS:
David Sanborn:  1999-2011
Randy Brecker:  1992-2013
Chris Minh Doky:  2002-2012
Sadao Watanabe feat. Richard Bona:  2001-2004
The Brecker Brothers:  1992-1997
FILM:
The Getdown – Scored this feature comedy film, currently in the rotation on Cinemax
ASCAP's Harold Arlen Award for Orchestral scoring, out of 300+ applicants
Jinx!  (dark comedy) directed by Adam Baran.  Bought by the Independent Film Channel
ASCAP's Film and TV Scoring Workshop – 1 of 12 selected worldwide for this boot camp for the best young composers
Cleansing  (supernatural thriller) directed by Sean Kreminitskiy
One (suspense/action/drama) directed by Sean K.  Won Gold Medal for Best Score, 2008 Park City Film Music Festival
Open Season (drama) directed by Joseph Caldwell.  Nominated for Best Director, Best Drama, Hollywood DV Film Festival
Chi (action/martial arts) directed by Chris Vallone.  Nominated for Best Action Sequence, Action on Film Festival
Bad Dream (dark comedy) directed by Eduardo Benchoam.  Screened at HBO's NY Int'l Latino Film Festival
Breaking All Records  (documentary) directed by Christopher Vallone
The Cask of Amontillado  (horror/drama) directed by Sean K
Several dozen examples of this work are available under the "Music" tab.
TELEVISION:
The Road to Stardom with Missy Elliot – Reality series
MTV's Stankervision – Sketch comedy series
The Entertainer – Reality Series
Science Times – "Living With Fire" – Discovery Channel Documentary
As the World Turns – Nominated for an Emmy for my work on this show