One Toke Over The Line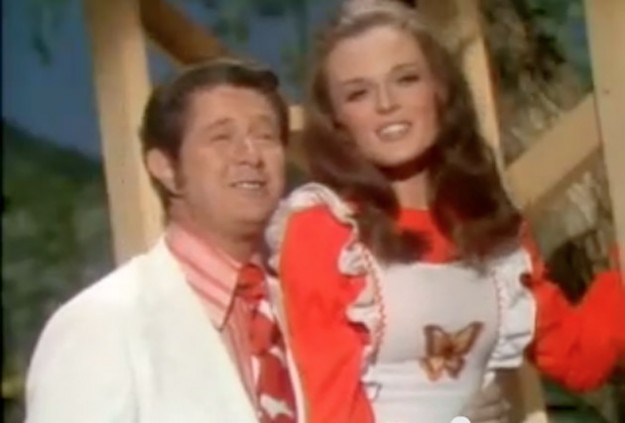 My first real road gig was a year with Matt "Guitar" Murphy in 1987. Matt, of course, is a real road warrior, and the gig was a great experience, an excellent hang, and we made a lot of great music. I probably learned as much from listening to Matt play the blues in "G" every night as I've learned from anybody ever; it was a real study in how to stretch a melody over the time and how to make every note count, and Matt is a direct link to the guys who made that music up in the first place. His first road gig was with Howlin' Wolf in 1948. Those tours were also a great look at how a real veteran did the road; of all the things there are to piss somebody off on a 3-month tour of blues joints, I only ever saw Matt actually get pissed off a couple times. We drove through 47 of the 50 states in that year and flew to Alaska. My very first night on the gig, we played in Fort Lauderdale, then drove 1200 miles to Houston and played the next night.
Matt and I were usually the all-night drivers, Matt driving his green Caddy and me driving a van with ball joints like tubs of Parkay. And by 3 a.m. Matt would often be really nodding in the Caddy. Whenever that started to happen, I would get in behind Matt, and every 10 minutes when I saw him start to head off the road, I'd blast the horn, he'd wake up, and he'd jerk the wheel back over to the left and we'd be good for another 10 minutes. We played every kind of venue, including a bar in Edmonton that was a blues bar in the front and a stripper bar in the back (I still remember one of the gum-snapping girls on the pay phone in the hall recommending a friend for a position in the stripper bar: "…well, you know, she looks OK I guess, you know, nice rack, OK face…") We played a bar in London, Ontario, that was a blues bar on one side and a cover-band glam rock bar on the other side. All of the musicians stayed in the condemned hotel just above the bars, and I would lie in my bed and watch the spiders in their webs on the ceiling catching bugs. The rockers partied pretty damn hard. The second time we played there, the other band was a KISS cover band, and after a particularly long and loud night we woke up to find a girl duct-taped to the wall in the hallway, fast asleep. Just another day in the office. We also were required to play the Sunday afternoon jam session there, and one Sunday after the interminable procession of horrible harmonica players had wheezed their last wheeze, a young blind Canadian guy came up and played the guitar on his lap and you could just about hear everybody's jaw hit the floor. R.I.P. Jeff Healy! Once we drove all day to Evergreen, Colorado to play at the Little Bear, a great blues club there. We got in at about 11 pm, it was 10 below, and there was no heat in the "band house", just a couple bare wires sticking out where the thermostat had been, and putting them together didn't do anything for us. So after a futile search for some firewood to steal, we gave up and just chopped up the couch and burned that. On another occasion, we got up one morning at the Econo-Lodge in Carrolton, Kentucky and headed across the parking lot toward the diner for breakfast before hitting the road. When the diner saw us coming, 3 large black men and three ratty looking hippie long-hairs, a hand inside grabbed the sign that said "OPEN" and flipped it to say "CLOSED". Matt has a laugh that always sounds like it's bigger than he can actually get out, and he laughed that way and we went somewhere else to eat. At that point he'd been on the road for nearly 40 years; may I quote Pearl S. Buck: "Perhaps one has to be very old before one learns to be amused rather than shocked." The strangest gig I did in my year with Matt, though, was the Colorado Bong-A-Thon.
The Bong-A-Thon was a big event held way up a dirt road a couple hours out of Evergreen. It was put on by a kind of combination of bikers and hippies, and it was quite well organized. They had a serious stage and sound system way up in a clearing in the woods, and the point of the Bong-A-Thon was to stage a big tournament to see who could smoke a quarter-ounce of pot the fastest. If memory serves, the kid who won did it in 45 minutes. They would hire bands like Matt's to come play, and it was a very cool scene way up in the woods under the stars. We got there in our van and Caddy and the road up was a river of mud. The organizers hosed it down on purpose; they'd let the necessary vehicles go up the dirt road, then they'd take hoses from a tanker they had up at the top and muddy it up enough that no "unauthorized" vehicles could get up there. So we slipped and slid all the way up the dirt road, with the bikers occasionally sticking a broom under the wheels for traction, and finally made it up. And wow, did the whole place just reek of weed. They had it pretty together, though; they even had "merch booths" and so forth. This button I bought captures the vibe: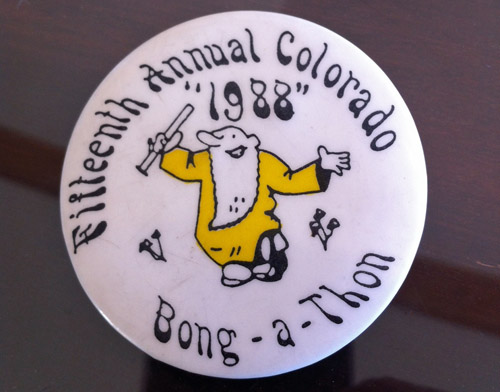 I took a look to see if they're still holding the Bong-a-Thon, and it appears that they are, although it looks like the thrill is gone; the setup for a couple recent ones looked like just any old trailer park. However, according to the website, it looks like they'll be returning to the woods in 2013. The website states that "The event is an invitation-only affair where the best in the world gather on a yearly basis to test their skills" and that you must enter your "credentials" to get one of the 420 invitations. And according to this link, the organizers recently got busted; this is what happens when you lose your ethos, dudes! The Denver Post's article on the arrests offers helpful illumination for the bong-obtuse: "Some of those attending the Bong-A-Thon, a reference to a water pipe used to smoke marijuana"… And with that, let's all now take a moment to appreciate this fine rendition of "One Toke Over The Line", as rendered by an attractive couple, Gayle Farrell, from Durand, Oklahoma, and Dick Dale, from Algona, Iowa., on one of the newer songs:
For us, the Bong-A-Thon was a cool gig in the forest under the stars. We finished playing then slipped and slid back down the dirt road in the dark. A few months later, the Blues Brothers reformed, and Matt recommended me for the band on keyboards. But in the end, I was unfortunately aced out by a Booker T. somebody. I returned to New York, and the phone rang the next day; it was a manager calling me to play with some guy I'd never heard of named Lyle Lovett. They needed someone right away. I explained that I'd just gotten back after a year of 3-month tours, and I wasn't really looking to head back out right then. 2 weeks later I was treated to the edifying experience of sitting on our moldy old davenport in our dumpy apartment near the Superfund clean-up site on the Gowanus Canal, turning on our battered old TV and seeing some guy I'd never heard of named Lyle Lovett playing with his band on the Tonight Show. And thus did fate's fickle finger point me yet again toward the breakdown lane on the Long Island Expressway. And my tuxedo with me.
IF you are digging this blog, join the mailing list and share it on your favorite social media and you might be entered to win a handsome George Whitty Genuine Faux Bronze Lawn Gnome, valued at $6499! You don't want to be the only one on your block without one!