Track Of The Week: Score demos for "Kiddush Man"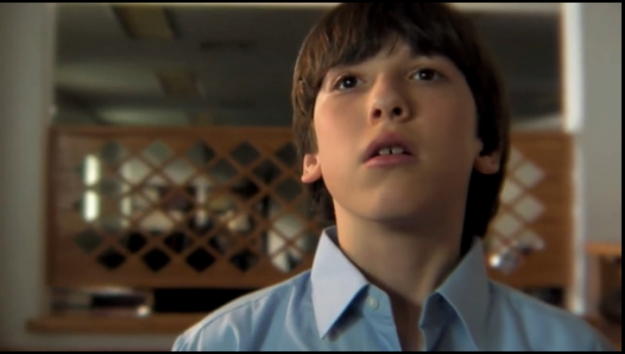 Welcome to the "Track Of The Week", in which I'm going to try to do a weekly post of some piece of music I've worked on, with the back story and the track itself.  I've done a lot of tracks at this point (hundreds of CD tracks, hundreds more TV/film cues) and some have some pretty good stories behind them;  a lot of them are damned good music to boot!  One quick note:  you may have noticed that Facebook has started to monkey around with whether, or to whom, they show people's posts.  So if you like this idea and want to be notified for sure when the next one comes along, sign on to my spam-free mailing list (you can also download a free track from Third Rail's debut CD) to get a note when a "track of the week" post is released!
Below are two different demos I did for the end sequence in a beautiful short film by Columbia graduate director Yitz Brilliant. The setup here is that there's this obnoxious kid running around the synagogue, can't sit still, can't focus, "always doing the wrong thing". And there's a grouchy old man, kind of a needlessly grouchy-seeming old man, who keeps running after and catching him and yanking on his ear for "discipline". It's basically a silent film, there's no dialogue, incredibly well done by a director who understands what makes a film suck you in. And in this end sequence, well, the sequence speaks for itself. 
I started the process of working on this film by going to the end section and writing some different ideas; I wanted to come up with a moving motif for the end that I would then re-frame for the earlier parts of the movie as a more mischevous motif by changing the harmony, the orchestration, the rhythm and so forth. But I wanted that same theme to appear again at the end with a new understanding, and since this is the pivotal scene in the movie, I decided to optimize the motif for this scene and work backward.
This first take on it is the one I prefer, although it's marked as the "alternate" on my drive. The second one (the main one) is "too big", and would be even if it were a smaller ensemble; Yitz pointed that out from the get-go. When we left off with this movie, the mission was to pare down the size of the ensemble A LOT (maybe down to a woodwinds quartet or quintet), but as often happens, something went awry. The film ended up getting accepted into Columbia's ASCAP program, which meant the job would be PAID (YAY!), and they would only allow NY-based composers (FU!).  But it was a treat to work with such a rich piece of work and I still dig these end cues!
Here's one look at it, the one we preferred:
And here's the first one I did;  you can hear that while it's kind of "epic", "epic" isn't really right here (this is why I did a few takes at this):
The film went on to win a National Board of Review award and Yitz Brilliant seems to be prospering.  And this was yet again one of those projects where I could just smell how good it could be and found myself still up and working on it at 4:30 a.m.
Click Here to stay in touch with my blog!