Chapter 4: We have taken Stockholm
Well, first off, let's start with the REALLY BIG NEWS:  For everyone who's ever been mean to me, or hurt my feelings, or ripped me off, you can EAT MY SHORTS!   Sorry, SUCKERS:  I just got notified by email that I HAVE BEEN SELECTED FOR THE 2013 EDITION OF EXECUTIVE WHO'S WHO!  It is so wonderful to finally be recognized by such a prestigious, meticulous organization for all my accomplishments.  "An elite cohort of the most dynamic and successful entrepreneurs pushing the boundaries of success", it says.  And further down the page, I can "Register now to join this exclusive corps of 10,000 accomplished women just like me!"

Not that I need to bother playing music any more now that I've joined 10,000 accomplished women just like me, but gee our first gig over here was a hell of a lot of fun, as it always is with these musicians.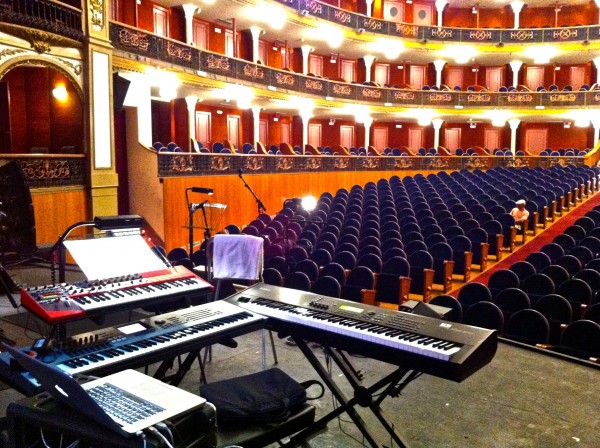 Above is a picture of the view from behind my chair in the hall in Cordoba, a typically great space to play.  Great audience, and we played a remarkably clam-free set on only a couple hours of rehearsal on Randy's none-too-easy music.  This record of Randy's (should be out in the next few months) is a total blast to play live.  He always puts a ton of meat on the bone with his tunes;  there's never just a "vamp in G".  And the genius of his writing is that, for all the incredibly unusual harmony he writes, if you misplay a note in any of them, you ruin it.  Keep an eye out for the CD/DVD, coming soon!
   My grandfather always used to talk about "brain food";  I think he would have gotten a laugh out of this menu item from Cordoba: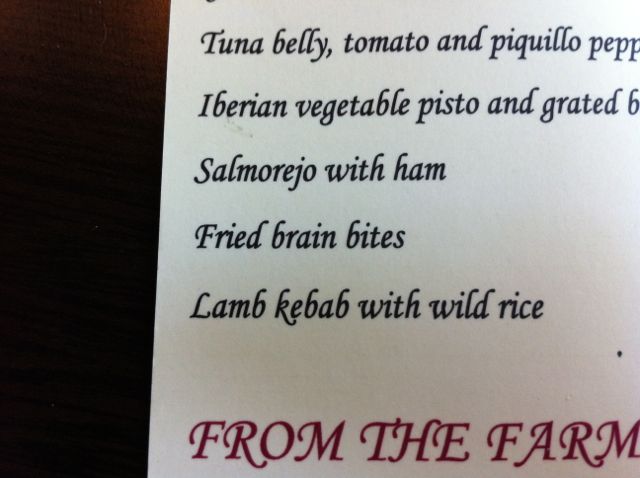 Gotta head over to Fasching, the jazz club here in Stockholm, for soundcheck. The last time I was here my kidney stone was very bad and I did 2 shows on Vicodin. I hope I was wearing pants.